Why Choose Our Residential Construction Company in Stamford, CT?
Welcome to Fixd Home Solutions, your premier partner for top-notch residential construction services in Stamford, CT, and the surrounding areas. With a deep commitment to quality, innovation, and client satisfaction, we bring your residential visions to life, creating homes that reflect your unique style and needs.
At Fixd Home Solutions, we understand that your home is more than just a building – it's a reflection of your personality and a haven for your family.
Here's why we're the preferred choice for residential construction:
1. Expert Craftsmanship: Our team of experienced craftsmen takes pride in delivering unparalleled quality in every project. From new home construction to thoughtful renovations, we pay meticulous attention to every detail, ensuring your home is built to last.
2. Tailored Solutions: We recognize that every homeowner has specific needs and preferences. As a leading residential construction company in Stamford, CT, we work closely with you to understand your vision, translating it into a bespoke design that captures your dream home's essence.
3. On-Time Delivery: We understand the excitement of moving into your new or renovated home. Our commitment to punctuality means we work diligently to complete projects within the agreed-upon timeframe, without compromising on excellence.
4. Transparent Communication: Open lines of communication are essential for a successful partnership. Our team keeps you informed throughout the construction journey, providing updates and addressing any questions or concerns promptly.
Our Comprehensive Residential Construction Services
Home Renovations
Whether you're considering a kitchen overhaul, bathroom transformation, or a full home renovation, our team specializes in revitalizing spaces while maintaining the integrity of your home's design.
Room Additions
Need more space for your growing family? Our room addition services seamlessly integrate new rooms into your existing layout, ensuring a harmonious blend of functionality and aesthetics.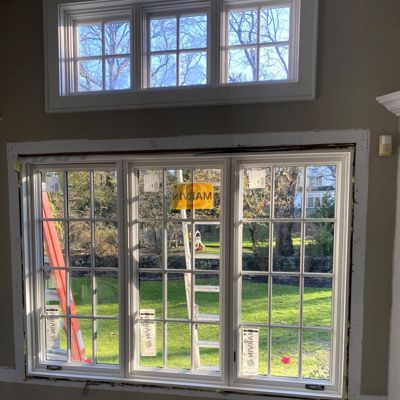 Home Repairs
From fixing leaky faucets and repairing electrical outlets to patching up walls, our skilled handymen handle a variety of home repairs promptly and effectively.
Find quick answers to common questions about our Stamford, CT construction and handyman services. If you need more information, don't hesitate to contact us. We're here to help you get the clarity you need for a successful project experience.
What types of construction projects does Fixd Home Solutions specialize in?
Fixd Home Solutions specializes in a wide range of construction projects, including custom home construction, residential remodeling, commercial construction, room additions, and interior and exterior renovations. Our experienced team is equipped to handle various projects, from small-scale renovations to large-scale custom builds.
How do I get started with a construction project?
Getting started is easy! Simply contact us to discuss your project ideas and requirements. We'll schedule a consultation where we can understand your vision, offer expert insights, and provide an estimate. Once you're comfortable with the plan, we'll work closely with you to bring your project to life.
How long does a typical construction project take to complete?
The duration of a construction project can vary widely based on factors such as project scope, size, complexity, and weather conditions. During the initial consultation, we'll provide you with a realistic timeline based on our experience and your specific project details. Our goal is to complete projects efficiently while maintaining the highest quality standards.
Are your construction services backed by any warranties?
Yes, we stand behind the quality of our workmanship. Fixd Home Solutions offers warranties on our construction projects, providing you with peace of mind knowing that we're committed to the long-term durability and functionality of your project. Specific warranty details will be discussed and provided during the project planning phase.
How does Fixd Home Solutions ensure safety during construction?
Safety is our top priority. Our team follows strict safety protocols and adheres to industry best practices to ensure a secure construction environment. We work to minimize risks, implement proper safety measures, and use high-quality materials to create a safe and stable end result. Our experienced professionals prioritize both the safety of our team and your property throughout every project.
We're Committed to Exceed Your Expectations
Our Office
38 PALMER AVE FL 2, Stamford, CT 06902